To purchase:
Essentials for Proficiency in Basic Cardiovascular Ultrasound (Spiral Bound 2015)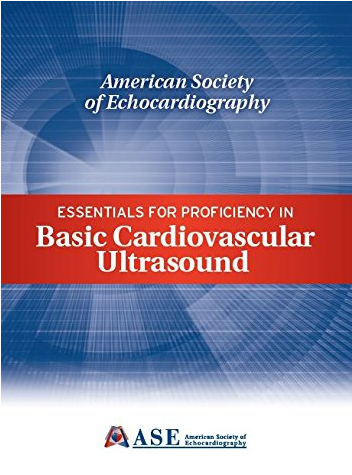 Designed by top physicians and professors of cardiovascular medicine, this comprehensive review of basic echocardiography has been created as a teaching tool for echocardiography fellows and others interested in learning about the use of cardiovascular ultrasound in clinical practice. This set includes 15 lectures on a variety of topics, beginning with the normal TTE and TEE examinations, and then covering the mitral and aortic valves in-depth, left and right heart function, physics, prosthetic valves, and more. Each lecture has been carefully crafted to include a thorough review of practical concepts, references to ASE's Guidelines and Standards, video examples of normal and abnormal echocardiograms, and case studies designed to provide real-word examples. A workbook correlates with the lectures to provide a printable guide for each presentation.
ASE Member: $150
Nonmember: $250
Textbook of Clinical Echocardiography, Fifth Edition
Use echocardiography to its fullest potential in your initial diagnosis, decision making, and clinical management of patients with a wide range of heart diseases. World-renowned cardiologist Dr. Catherine M. Otto helps you master what you need to know to obtain the detailed anatomic and physiologic information that can be gained from the full range of echo techniques, from basic to advanced.
ASE Member: $142
NonMember: $179
ASE's Comprehensive Echocardiography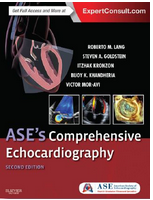 Written by world experts from the American Society of Echocardiography (ASE), Comprehensive Echocardiography is a unique multimedia resource with text, case studies, and online components covering the latest uses of echocardiography, including the most recent 2D and 3D advances.  This 2nd edition, with its new title, has over 200 chapters that include essential material in a succinct format.  It has everything you need to assess cardiac anatomy and function and obtain clinically useful, noninvasive information for more accurate diagnosis and evaluation of heart disease.
Included with the book is an online version and an outstanding online library of slides and videos of case presentations that correspond to crisp, full-color images, allowing you to view dynamic echocardiographic clips of various cardiac pathologies.
ASE Member: $199.00
Nonmember: $229.00
Cardiovascular Sonographer Registry Review Guide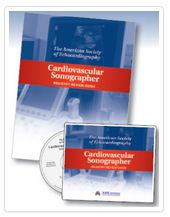 Designed by top sonographers, the Cardiovascular Sonographer Registry Review Guide provides a comprehensive study guide for both the American Registry for Diagnostic Medical Sonography (ARDMS) and the Cardiovascular Credentialing International (CCI) adult cardiovascular ultrasound registry examinations. This two-piece bundled set, 11 DVDs and 600 page workbook, will provide a thorough review of adult echocardiography and physics to help you pass these examinations.
ASE Member: $150.00
Nonmember: $250.00