ImageGuideEcho Objective and Goals
Objective: ImageGuideEcho exists to assess specific quality metrics and patient outcomes as a vehicle to drive technology application within the field of echocardiography for the benefit of stakeholders, including patients, physicians, and researchers, through analysis of echo-specific registry data.
Identified Goals:
Provide timely data feedback and tools for echocardiography labs
Facilitate fulfillment of regulatory and other reporting requirements
Inform health policy and reimbursement advocacy
Demonstrate the value of echocardiography
Serve as a platform for research and education
Link with outcomes data to trace the patient along the continuum of care
Allow for direct comparisons with ultrasound images captured during the study
Drive the future of the field of echocardiography by demonstrating the value of technology and opportunities for improvement and expansion
Data Elements
To accomplish the above goals, ASE is capturing the following Phase I data including, but not limited to:
Site-Specific Information
Staffing Resources
Practice Characteristics
On-Site Diagnostic and Revascularization Capabilities
Data File Transmission Information
Laboratory Accreditation Information
Office Location Information, if multi-site
Equipment & Software Information
Technology Utilization and Availability
Demographics
Patient Baseline Characteristics (height, weight, SBP, DBP, BSA, etc.)
Study Classification
Insurance Payer
Type of Study Performed
Technology Utilized During Study
Contrast Agent
Agitated Saline
Strain
Equipment Used to Acquire Image
Primary & Secondary Indications
Transthoracic Echo (TTE) Data
Views Obtained
LV Dimensions and Volumes
LV Function Segments (17 segment model)
LV Hypertrophy, Type & Severity
LA & RA Size
Pericardial Effusion, Type, Volume & Presence of Chamber Collapse
Aortic, Mitral, Tricuspid & Pulmonic Valves

Structure
Function (Stenosis & Regurgitation Severity)
Presence of Prosthetic Valve

Quantitative Measurements

Aortic Root Dimension
LA Anteroposterior Dimension
LV Volumes & Dimensions
LVEF
LA Max. Volume
Conclusions
Study Quality
Report Turnaround Time
Comments
Future phases of development include stress echo, TEE, and later, pediatrics and congenital heart disease. By creating phased data implementation that coincides with advanced registry capabilities, ImageGuideEcho is uniquely positioned to become the foremost authority on echocardiography data for physicians, hospital administrators, industry, researchers, and the government.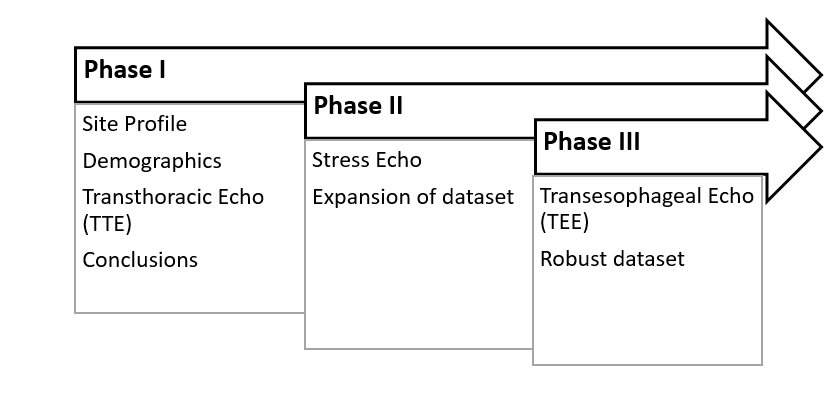 Figure 2: Phased data implementation