Connect@ASE Mobile Membership App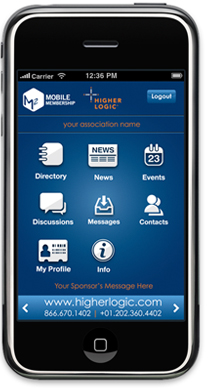 Mobile membership now available for iPhone, BlackBerry and Android
As a part of our Connect@ASE site, we have developed a Mobile Membership App which you can download to your smartphone.  It contains the following information from the Connect@ASE site:
–  Membership Directory
–  Listing of your Connect@ASE contacts
–  ASE News
–  ASE Discussions
–  ASE Events
–  Connect@ASE contact requests and emails
To download the app:
Go to your smartphone's app store
Search for Mobile Membership (you'll see the M2 logo)
Download!
Pick American Society of Echocardiography
You will need your ASE login information to login the first time you use it.
iASE

iASE a tool developed by the American Society of Echocardiography (ASE) to provide clear and concise summaries of the most popular guidelines published by ASE, and as a platform to deploy additional guidelines and tools in the future.
iASE is being made available at an introductory price of $4.99.
Click here for Apple products:
http://itunes.apple.com/us/app/iase/id442883176?mt=8#
Please note that iASE requires iOS 4.0 or higher, which is supported on all iOS devices except for the orginal iPhone/iPod touch and the iPhone 3G.
Click here for ANDROID:
https://market.android.com/search?q=iASE&so=1&c=apps
Each guideline summary includes key tables, reference values, and figures that are quick and easy to look-up. They can also serve as a teaching tool in an educational setting.
Included guideline summaries:
• Chamber Quantification (2005)
• Right Heart (2010)
• Valvular Regurgitation (2003)
• Valvular Stenosis (2009)
ASE Pocket Guidelines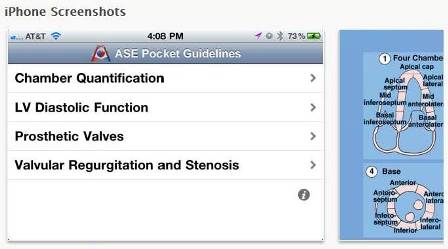 The American Society of Echocardiography's first iPod/iPad/iTouch app is available for sale through Apple's iTunes store for $9.99.
http://itunes.apple.com/us/app/ase-pocket-guidelines/id421031125?mt=8&ls=1
The "ASE Pocket Guidelines app" is a handy tool developed by ASE to consolidate charts from our most popular guidelines in one place. This app is adapted from the Pocket Guidelines that we have previously published and are for sale through ASEMarketPlace.
These charts were adapted from the following four guidelines written by ASE and published in the Journal of the American Society of Echocardiography (JASE).
Echocardiographic Assessment of Valve Stenosis: EAE/ASE Recommendations for Clinical Practice, JASE, January 2009
Recommendations for Evaluation of Prosthetic Valves With Echocardiography and Doppler Ultrasound, JASE, September 2009.
Recommendations for Chamber Quantification, JASE, December 2005.
Recommendations for the Evaluation of Left Ventricular Diastolic Function, JASE, February 2009.
Questions?  Please contact Hilary Lamb at ASE.