Welcome to ASEMarketPlace!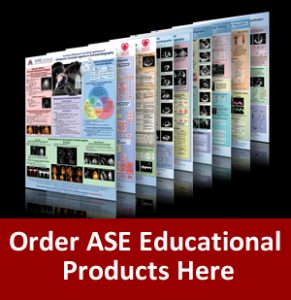 Shop ASE educational products including posters, books and DVD's. Browse our products using the navigation to the left. ASE Members, please log in to your member portal for member pricing.  Not an ASE Member? – Please visit our Amazon.com Store.
NEW PRODUCTS NOW AVAILABLE!
Proper Echocardiographic Measurements: How and Why is a guideline-based product focused on the methods used to obtain measurements, including explanations describing why such methods are appropriate. This educational tool comprises a combination of didactic lectures and clinical questions. It can be used as a review for experienced sonographers, as well as a training tool for new or early-career sonographers and others who are interested in the practice of cardiovascular ultrasound.
How to Perform a Transthoracic Echocardiographic Study Volume 1: Transducer Position and Anatomy is an instructional video, offered by ASE, and can be used for professional lectures and offers an interactive section for flexible presentations. The video includes an overview of relevant cardiac anatomy, a step by step presentation of all transducer positions, and the sequential transducer movements to acquire standard echo images needed to complete a transthoracic echocardiographic Study. 
Transesophageal Echocardiography in Perioperative Care DVD – This is a case-based, online educational tool for anesthesiologists, cardiologists, fellows, surgeons, and other interested individuals currently performing and/or interpreting transesophageal echocardiography (TEE) for intraoperative procedures.
Echo Test and Teach – ASE and Ke Labs have collaborated to co-develop the Echo Test and Teach Application. Designed through the expert guidance of Harvey Feigenbaum, MD, FASE, and founder of ASE, this tool was produced to ensure quality and consistency of cardiac ultrasound image review as well as to educate users on interesting cases and new techniques.Echo Test and Teach serves as a training tool to enhance the skills of sonographers and physicians in the measurement and interpretation of cardiac ultrasound images.  Results can be analyzed and viewed individually or as a group.
ASE's Comprehensive Echo – This brand new publication has 200 chapters, almost 600 pages, and includes an online version of the textbook. ASE's Comprehensive Echocardiography was written by the experts in echocardiography. The book covers the latest uses of echocardiography including the most recent 2D and 3D advances. Each edition comes complete with an online version which includes a case library.
Thank you for your interest in ASE products! Please tell us how they have helped you, your practice or someone in your practice by filling out this form.
Questions?  Please contact Alyssa Lawrentz at alawrentz@asecho.org.