Welcome to ASEMarketPlace!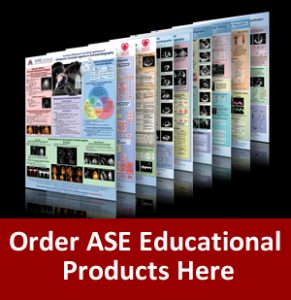 Shop ASE educational products including posters, books and DVD's. Browse our products using the navigation to the left. ASE Members, please log in to your member portal for member pricing.  Not an ASE Member? – Please visit our Amazon.com Store.
NEW PRODUCTS NOW AVAILABLE!
Order two new posters based on the updated "Recommendations for Cardiac Chamber Quantification by Echocardiogrpahy in Adults" document. There is a Right Heart and Left Heart poster for sale. Purchase yours today for a special price – Only $10.00 each for members and $15.00 each for non-members.
Clinical Cases in Echocardiography: Focus on Congenital Heart Disease – This brand new, case-based activity reviewing the role of echocardiography in the diagnosis and follow-up of a wide variety of different congenital heart diseases and defects. ASE designates this enduring material for 5 AMA PRA Category 1 Credits™
Essentials for Proficiency in Basic Cardiovascular Ultrasound – Designed by top physicians and professors of cardiovascular medicine, this comprehensive review of basic echocardiography has been created as a teaching tool for echocardiography fellows and others interested in learning about the use of cardiovascular ultrasound in clinical practice. This set includes 15 lectures on a variety of topics.
Best of ASE, Volume 7: Stress Echocardiography – This "Best of ASE" DVD is packed with a superb compilation of talks that provide a fresh approach and review in understanding the role and clinical relevance of echocardiography during stress for identification, evaluation, risk stratification, and prognosis of patients who present with asymptomatic valvular heart disease and other non-ischemic cardiovascular diseases.
Thank you for your interest in ASE products! Please tell us how they have helped you, your practice or someone in your practice by filling out this form.
Questions?  Please contact Alyssa Lawrentz at alawrentz@asecho.org.