Welcome to ASEMarketPlace!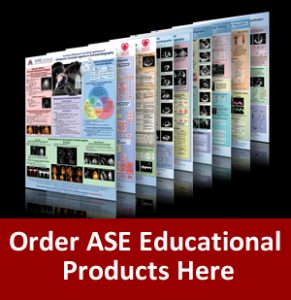 Shop ASE educational products including posters, books and DVD's. Browse our products using the navigation to the left. ASE Members, please log in to your member portal for member pricing.  Not an ASE Member? – Please visit our Amazon.com Store.
NEW PRODUCTS NOW AVAILABLE!
Advanced Cardiac Sonographer Registry Review Guide is designed by accomplished expert sonographers and ACS imaging specialists, this comprehensive review of basic and advanced echocardiography has been created as a review guide and teaching tool for sonographers preparing to sit for the Advanced Cardiac Sonographer Registry Exam. This video and workbook set includes 20 modules on a variety of topics. These topics include IAC standards and guidelines for adult echocardiography accreditation and quality assurance to an in-depth review of cardiogenic shock and emergency echo, stress echo, congenital disease, chemotherapy echocardiography, left and right heart function, prosthetic valves, research methods and biostatistics, and interventional echocardiography including the latest technological advances. Each lecture has been carefully designed to include a thorough review and clinical application through real video case study presentations. A workbook correlates with each lecture providing a question and answer section for each module. The final workbook chapters includes two 180-question mock exams designed to test your overall knowledge and skillset in preparing you to take the ACS Registry Exam with success. Echocardiography fellows, nurses, researchers, and others interested in an in-depth review of echocardiography and echo lab quality assurance best practices would also find this product valuable.
Transesophageal Echocardiography of Structural Heart Disease is a case-based learning tool caters to this growing educational need of cardiologists, cardiac anesthesiologists, fellows, sonographers, and other individuals involved in procedural image guidance with transesophageal echocardiography (TEE). This product not only illustrates the utility of real-time two- and three-dimensional TEE in interventional echocardiography but also demonstrates the procedure-specific imaging needs in SHD.

UPDATED – Echocardiographic Evaluation of LV Diastolic Function Poster – Echocardiographic assessment of left ventricular (LV) diastolic function is an integral part of the routine evaluation of patients presenting with symptoms of dyspnea or heart failure. The 2009 American Society of Echocardiography (ASE) and European Association of Echocardiography (now European Association of Cardiovascular Imaging [EACVI]) guidelines for diastolic function assessment were comprehensive, including several two-dimensional (2D) and Doppler parameters to grade diastolic dysfunction and to estimate LV filling pressures. Notwithstanding, the inclusion of many parameters in the guidelines was perceived to render diastolic function assessment too complex, because several readers have interpreted the guidelines as mandating all the listed parameters in the document to fall within specified values before assigning a specific grade. The primary goal of this update is to simplify the approach and thus increase the utility of the guidelines in daily clinical practice.
2nd Edition Best of ASE, Volume 3: A Practical Guide to 3D Echocardiography – The presentations in this new edition highlight the current uses for 3D technologies using transthoracic, transesophageal, and intra-cardiac echocardiography and touch on potential applications of this technique.  Novel derived techniques such as computational modeling and 3D printing are also discussed.  Multiple real-world examples have carefully been incorporated into these lectures to enrich the learning experience. 3D echocardiography has become an important part of the clinical assessment with respect to quantification of ventricular size and function, mitral valve evaluation, and the guidance of structual intervention.  From the information presented in this lecture series 3D echocardiography makes the promise to do much more in the future.
Proper Echocardiographic Measurements: How and Why is a guideline-based product focused on the methods used to obtain measurements, including explanations describing why such methods are appropriate. This educational tool comprises a combination of didactic lectures and clinical questions. It can be used as a review for experienced sonographers, as well as a training tool for new or early-career sonographers and others who are interested in the practice of cardiovascular ultrasound.
How to Perform a Transthoracic Echocardiographic Study Volume 1: Transducer Position and Anatomy is an instructional video, offered by ASE, and can be used for professional lectures and offers an interactive section for flexible presentations. The video includes an overview of relevant cardiac anatomy, a step by step presentation of all transducer positions, and the sequential transducer movements to acquire standard echo images needed to complete a transthoracic echocardiographic Study. 
Transesophageal Echocardiography in Perioperative Care DVD – This is a case-based, online educational tool for anesthesiologists, cardiologists, fellows, surgeons, and other interested individuals currently performing and/or interpreting transesophageal echocardiography (TEE) for intraoperative procedures.
Echo Test and Teach – ASE and Ke Labs have collaborated to co-develop the Echo Test and Teach Application. Designed through the expert guidance of Harvey Feigenbaum, MD, FASE, and founder of ASE, this tool was produced to ensure quality and consistency of cardiac ultrasound image review as well as to educate users on interesting cases and new techniques.Echo Test and Teach serves as a training tool to enhance the skills of sonographers and physicians in the measurement and interpretation of cardiac ultrasound images.  Results can be analyzed and viewed individually or as a group.
ASE's Comprehensive Echo – This brand new publication has 200 chapters, almost 600 pages, and includes an online version of the textbook. ASE's Comprehensive Echocardiography was written by the experts in echocardiography. The book covers the latest uses of echocardiography including the most recent 2D and 3D advances. Each edition comes complete with an online version which includes a case library.
Thank you for your interest in ASE products! Please tell us how they have helped you, your practice or someone in your practice by filling out this form.
Questions?  Please contact Alyssa Lawrentz at alawrentz@asecho.org.