iASE

iASE a tool developed by the American Society of Echocardiography (ASE) to provide clear and concise summaries of the most popular guidelines published by ASE, and as a platform to deploy additional guidelines and tools in the future.
iASE is being made available at an introductory price of $4.99 and includes 6 guidelines and over 20 calculators.
Click here for Apple products: http://itunes.apple.com/us/app/iase/id442883176?mt=8#
Please note that iASE requires iOS 4.0 or higher, which is supported on all iOS devices except for the orginal iPhone/iPod touch and the iPhone 3G.
Click here for Android: https://play.google.com/store/apps/details?id=org.asecho.iASE
Echo AUC app New!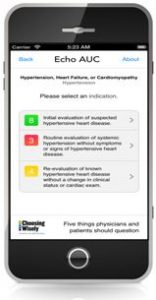 The "ASE Echo AUC App" provides a simple, practical approach for physicians to pursue additional professionalism in their daily practice in a more accessible and attainable way. The physicians will find it easy to use the free AUC App to stratify the patient, by disease and condition, into different treatment scenarios and determine quickly whether an echo should be ordered.  They will also be prompted with information on how to best describe these testing limitations to the patient. They will then have more time to focus on the care of the patient and be able to eliminate extra, unneeded or overused testing. This App includes the 98 AUC indications for transthoracic echocardiogram (TTE).







Connect@ASE New!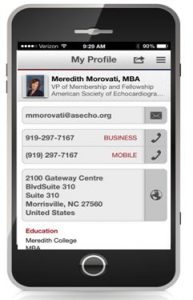 Get the latest discussions on Connect@ASE, your membership directory, and access to ASE's document libraries on your handheld device. Search for "Member Centric" in the Google Play or Apple iTunes stores.  Then select your organization, "American Society of Echocardiography." You will need the email address and password associated with your ASE membership account to activate the app.
ASE Meetings New!

Stay up-to-date on all of ASE's live educational courses by downloading the free ASE Meetings app. Find detailed information on each of ASE's events including faculty, agendas, exhibitors, networking events and more! Use the app to create or sync your event schedule and receive notifications of special activities and sessions while on-site. The app is available for download on both Apple and Android devices. Simply search for "ASE Live Educational Courses" in the Google Play or Apple iTunes stores.
Questions?  Please contact Hilary Lamb at ASE.