Archives for January 2018
Join ASE for the 2nd Annual Interventional Echo and Structural Heart Symposium. This fantastic offering, immediately following SCA Echo Week 2018, focuses on the role of echocardiography within the structural heart team.
This one-day course, on March 3, 2018, will feature multidisciplinary experts in interventional echocardiography, interventional cardiology, cardiac anesthesiology, and cardiac surgery – all engaged in the heart valve team approach to structural heart disease. Download the Advance Program, register, and learn more at ASEcho.org/IE.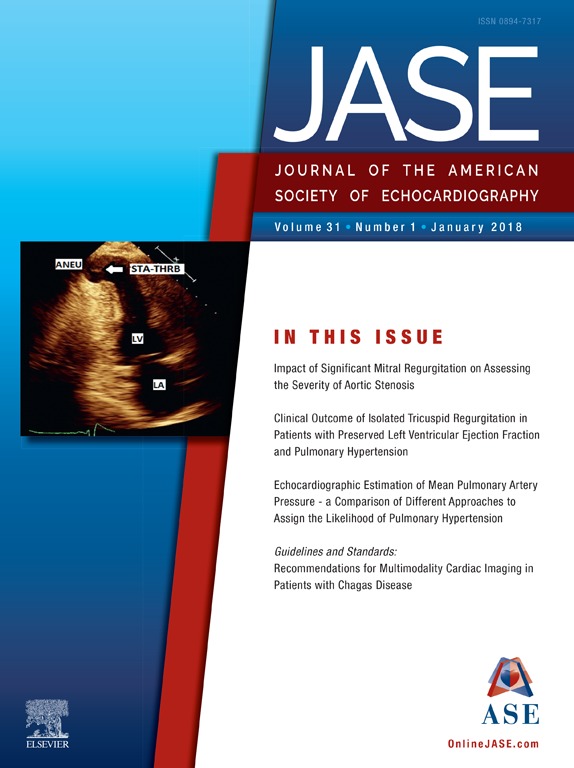 As we ring in the new year, the January 2018 issue of JASE debuts with Michael H. Picard, MD, FASE, as Editor-in-Chief, his first editorial, "JASE 3.0: Entering our 4th Decade," and a new cover design! The issue also features Recommendations for Multimodality Cardiac Imaging in Patients with Chagas Disease: A Report from the American Society of Echocardiography in Collaboration With the InterAmerican Association of Echocardiography (ECOSIAC) and the Cardiovascular Imaging Department of the Brazilian Society of Cardiology (DIC-SBC). The writing group for this important paper was led by Harry Acquatella, MD, FACC, FAHA, FASE, MACP, of Centro Medico de Caracas in Caracas, Venezuela (Chair), one of the world's foremost experts on Chagas heart disease and Federico Asch, MD, FASE, of MedStar Washington Hospital Center in Washington, DC (Co-chair). Dr. Asch commented, "While historically it has been rare in the U.S., migration has changed the epidemiology of Chagas Heart Disease. However, there is still a lack of awareness in our medical community on how Chagas disease should be screened for and diagnosed, and how imaging could impact the outcome of these patients. This document brings together experts from Latin America, led by Dr. Acquatella, with U.S.-based clinicians to raise awareness of this not-so-rare-anymore cardiac disease and provide guidance on how different cardiac imaging modalities can impact the outcome of patients at risk or infected."  Other articles in this issue cover valve disease, left ventricular strain and clinical outcomes, Doppler ultrasound assessment of cardiac hemodynamics, and echocardiography in children.

Join Federico Asch, MD, FASE, on Thursday, February 8 at 1:00 PM Eastern Time, for an interactive live webinar as he reviews Recommendations on the Multimodality Cardiac Imaging in Patients with Chagas Disease. During this webinar, Dr. Asch will discuss recommendations for the use of cardiac ultrasound and other imaging modalities in the diagnosis, classification, and risk assessment of myocardial damage from early to advanced forms of chronic Chagas heart disease (ChHD). Earn 1 AMA PRA Category 1 Credit™ for attending this live webinar event. Registration is free for ASE members. Register online today!

New this year –  At the 3rd Annual Echo ASEAN in Manila, Philipines, March 22-24, 2018, all investigators are invited to submit abstracts of their original research or clinical case reports to be considered for presentation in Manila. Presenters benefit from discounted registration rates and feedback from our world-renowned faculty. Visit the Call for Abstracts page for submission instructions. Submission closes Monday, January 15, 2018.
Submit your abstract of original work or clinical case report to be considered for presentation at the premier cardiovascular ultrasound conference of the year, the 29th Annual ASE Scientific Sessions in Nashville, Tennessee, June 22-26, 2018. Make your submission online today! Presenters benefit from dedicated viewing times, a global audience that promotes future collaborative work, eligibility for travel support, and low conference registration rates. Exceptional research is also considered for the prestigious Arthur E. Weyman Young Investigator's Award Competition for young investigators under the age of 40 and the Sonographer Investigator's Award Competition for non-physicians who served as the primary investigator on their project. Visit the ASE 2018 Call for Abstracts for more information. Submission closes Wednesday, February 7, 2018.

Read release here.