Archives for May 2017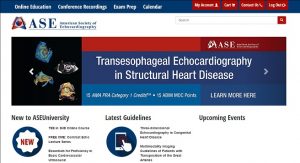 Change is almost always good, but this time it is great. ASEUniversity.org, ASE's online education site, not only has a whole new look, but it is much easier to find exactly what you need. Here are some highlights of the new site:
The log in process is much more efficient, allowing you to manage your account.
It is easier to identify Exam Prep, Conference Recordings, and Online Education.
You can search by any topic, or specific faculty, and get a comprehensive list of offerings.
This is not the last of the changes. Other exciting features will be added in the coming weeks! Be sure to check out the new ASEUniversity.org today and add it to your routine in the future.

As a special feature to go along with the latest guideline, Recommendations for Noninvasive Evaluation of Native Valvular Regurgitation: A Report from the American Society of Echocardiography Developed in Collaboration with the Society for Cardiovascular Magnetic Resonance, we have included eight Valvular Regurgitation Cases. These cases highlight the guideline contents, and more cases will be added as they become available.

Download the ASE 2017 Final Program Here. It's not to late to register. Visit ASEScientificSessions.org to learn more today.